Speech and Hearing Research Group,
Department of Computer Science
About the group
The Speech and Hearing Research Group (SpandH) was established in the Department of Computer Science, University of Sheffield, in 1986. Since then, it has gained an international reputation for research in the fields of computational hearing, speech perception, speech technology and its applications.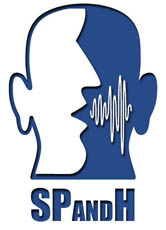 The group has a range of research interests, including:
Computational modelling of auditory and speech perception in humans and machines
Robustness in speech recognition
Large vocabulary speech recognition systems and their applications
Clinical applications of speech technology
An aspect of the group which makes it unique in the United Kingdom is the wide spectrum of research topics covered, from the psychology of hearing through to the engineering of large vocabulary speech recognition systems. It is our belief that studies at different points on this Science to Engineering axis can and should be mutually beneficial.
Projects 
Sheffield is the main host of two INSPIRE projects:
Project MIP2, "Modelling Spatial Release from Energetic and Informational Masking": Increasing the spatial separation between a target and a masker increases the intelligibility of the target. Spatial masking release involves contributions from both energetic and informational masking and is poorly understood.

 The aim of MIP2 is to develop a deeper understanding by extending microscopic models of intelligibility into the binaural domain. Models will be validated not just through their prediction of overall masking release, but by their account of the microscopic variations in the listener data.

Project S3, "The INSPIRE Challenge": Evaluation of models of speech intelligibility at the level of individual tokens can provide more detailed feedback on which model components require refinement. Based on the confusions corpus to be collected in S-1, this activity will develop protocols, data and delivery/scoring/analysis software to support model evaluation. We aim to create an annual evaluation framework for intelligibility models for participants both within and outside the INSPIRE network.
People
The following people at Sheffield are involved in INSPIRE projects: